Today's featured client...
Lee Suckow
of
Muskegon, Michigan
.
Congratulations, Lee, and hearty thanks for your business.



We've moved!
We have changed addresses in 2007 to become more accessible to our in-town clients:
2000Webbitects
5738 Cartagena St.
Houston, TX 77035



Introducing!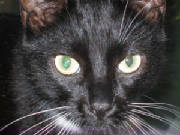 That's my cat LuckyBoy above, who often shows up for no apparent reason.